About the course: 
Working with adolescents presents a unique set of challenges due to the accelerated neurological, biological, and social changes that occur from the onset of puberty into early adulthood. This course offers an in-depth exploration of the developmental challenges specific to this population, while emphasizing the effectiveness of action methods in engaging with youth. Gain valuable insights into establishing and cultivating better working relationships with adolescents, understanding their developmental challenges, and effectively addressing issues. This course provides a transformative perspective, equipping you with the tools to better navigate the challenges of working with adolescents during this critical stage of their lives.
Due to the physical changes associated with adolescence, individuals at this age group might develop expectations that are beyond their developmental maturity. This can often lead to frustration for those working with youth, who may see resistance and defiance in the group or individual work. The solution might be: recognizing inadequate warmup and performing it.  
This module explores, in action, the developmental continuum from the onset of puberty through the mid-twenties. It helps ground youth workers in the current adolescent reality, and shows how action techniques can provide effective support to youth in successfully meeting their social, mental, and emotional challenges. A step-by-step activity is provided for viewers to role-reverse with adolescents at different stages of development and see the world "through their eyes." Join three students – a therapist, educator and supervisor, a business owner, and a business consultant from the US – as they explore and transform their personal adolescent experiences on this transformative journey.
This module is designed for those who work with youth (11 to 24 years old):
• Therapists
• Social workers
• Psychologists
• Counselors (including substance use counselors)
• Psychodramatists
• Educators
• Coaches
• Parents
Appropriate for those who are new to action methods, as well as experienced practitioners, students in mental health fields, and those who want to develop their skills in action methods. Acting skills are not necessary.
Learning Objectives:
• Describe relevant examples of adolescent brain development that should inform work in groups to create safety and explain the importance of having youth group members co-create group norms and agreements.
• Define the TSM Psychodrama Prescriptive Roles of Restoration, Observation, & Containment and recite at least one action activity that supports the development of these 3 types of roles.
• List the age characteristics that divide adolescent development into various stages.
• Describe similarities and differences between developmental challenges of contemporary adolescents and those of previous generations.
Module highlights: 
• Warm Up: Describe the different stages of development in adolescents and its characteristics. 
• Directing Skills: Describe how to lead individual and group work with different youth age phases. 
• Sharing: Define action techniques suited to working with each age subgroup. 
• Engaging Content: Immerse yourself in 148 minutes of captivating video content featuring an international group of students, bringing the learning experience to life
• Comprehensive Resources: Access valuable handouts to reinforce your knowledge of working with youth.
• Knowledge Assessment: Evaluate your understanding with a 30-minute test and provide feedback through a quick 5-minute course survey, ensuring your mastery of the material.
How and where to use:
• Class management
• Group engagement
• Group members to get to know each other and relate to each other
• Teaching new skills
• Conflict in the class
• New group formation
• Substance use counseling
• Therapeutic groups.  
• In Clinical and non-clinical setting
• Individual and group setting
• Online and in-person (therapy, counseling, classes, group leading)
• In single sessions (classes, summer camps activities etc.) 
• Parenting and parenting classes
Presenter:
Mario Cossa RDT/MT, TEP, TSM Trainer – founder and Director of Motivational Arts Unlimited, and recipient of the ASGPP Innovator's Award, 2019. Mario brings decades of experience as a group facilitator and psychodrama director and has worked in the USA, Canada, the UK, Australia, New Zealand, Malaysia, Indonesia, Korea, and China.
Module Includes:
Main Content:
• Videos -148 min
• Handouts - 30 min 
• Test - 30 min 
• Course Survey - 5 min 
Recommended Content:
• Psychodrama with Adolescents. Interview with M.Cossa. Part 1.
• Psychodrama with Adolescents. Interview with M.Cossa. Part 2.
• Psychodrama with Adolescents. Interview with M.Cossa. Part 3.
• Practicum - 80 min
Hours for Certificate:
• 3.5 Hours on Action Exploration Education Certificate (applicable for Psychodrama certification - includes test, survey and practicum)
Information on Continuing Education Credits
Psychodrama professional certification training hours: 
• American Board of Examiners - ABE accepts a maximum of 120 training hours for psychodrama distant learning. This module/course will count as asynchronous distance-learning as long as the primary trainer approves it.
• International Boards: You may be able to submit this certificate to your local Psychodrama board. Please contact your respective local board for information.
Experiential training hours: 
• International Society of Experiential Professionals: ISEP accepts experiential training hours administered by a TEP trainer. More information will be provided shortly. 
Social workers, Marriage and Family Therapists, and Professional Counselors: 
• We are working on getting board's approvals and will update this information shortly. 
Other Disciplines:
• You may be able to submit this certificate for credits in other mental health disciplines. Please contact your local board for information.


Module Curriculum

*Recommended Videos Not Included in Total Hours for Certificate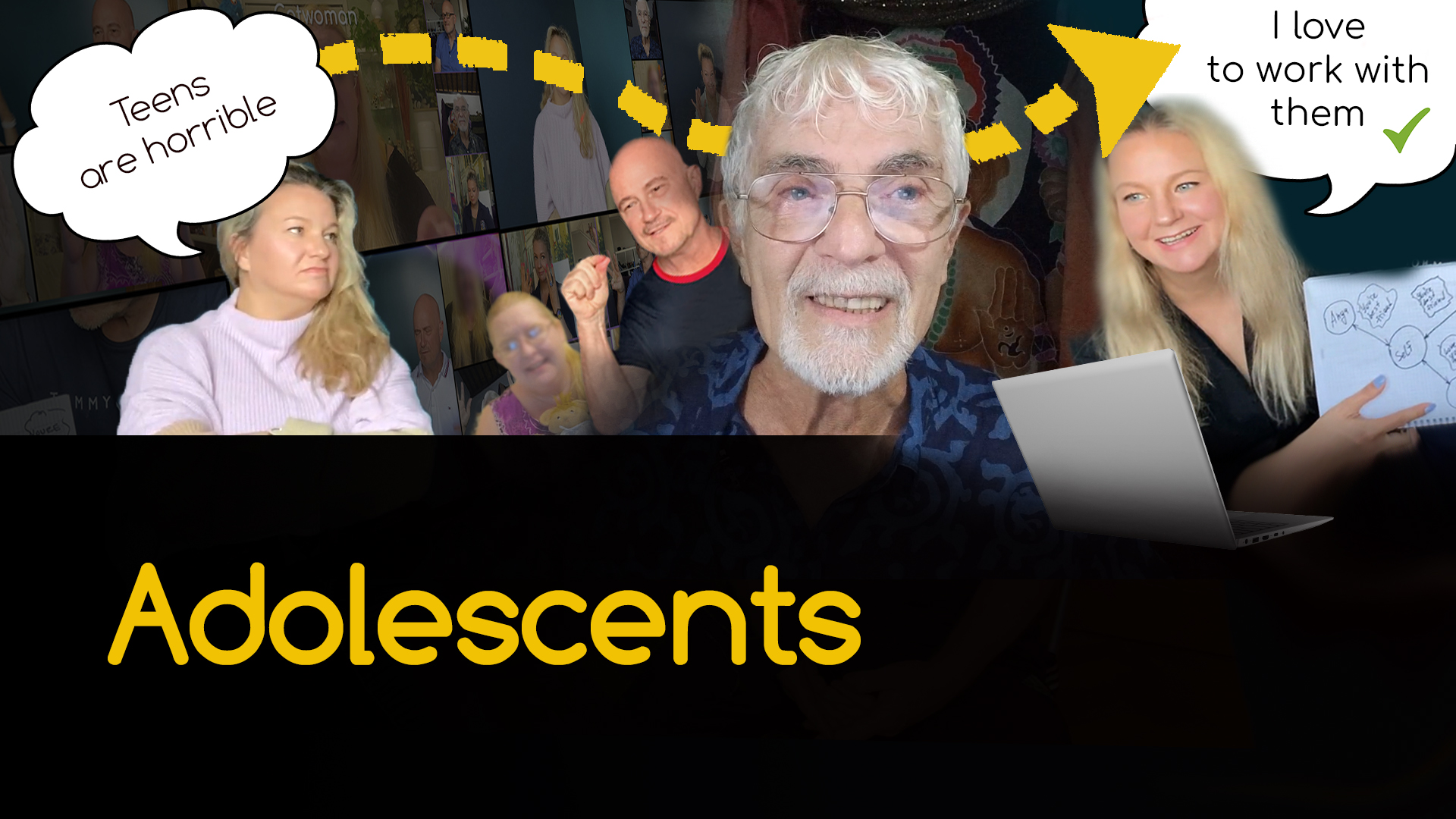 Rebels with a Cause: Working with Adolescents Using Action Techniques.
7 modules

Students can buy one separate module or the whole course of 7 modules with a bundle discount.
May we send you a biweekly newsletter?


When subscribed you will ONLY receive info on:
V Invitations for free limited-space courses
V Free video releases
V Newly released courses and discounts
V Invitations to our events


You will NOT receive:
X Spam

Check your inbox to confirm your subscription