Psychodrama has proven to be effective in work with addiction & trauma. The course explains in detail how Trauma-Informed & Trauma-Focused psychodrama works on retraumatization prevention and treating trauma and PTSD. Furthermore, it demonstrates in a psychodrama vignette how to introduce a new client to psychodramatic techniques to work on their addiction and trauma using the three stage clinical map. 
For those who work with addiction and trauma :
Psychologists, mental health professionals working with substance use disorders and behavioral addictions, therapists, and social workers. The course might be interesting for those who are in recovery or aiming towards recovery.
Goal:
Describe the effective introduction of action methods to clients. Demonstrate the application of Trauma-Informed psychodrama into practice.
Learning Objectives:

• Analyze the newest research and statistics on addiction & trauma;
• Identify the key reasons for addressing addiction & trauma simultaneously;
• Describe the fundamentals of utilizing psychodrama in work with addiction & trauma;
• Explain introducing action methods to clients;
• Describe how to direct a psychodramatic vignette that establishes strengths with a client to address addiction & trauma in the future.
Presenter:
Dr. Scott Giacomucci, DSW, LCSW, BCD, CGP, FAAETS, TEP, is the Director, Founder, & Director of Training/Continuing Education of the Phoenix Center for Experiential Trauma Therapy. He provides clinical services at the center as well as supervision, consultation, and training.

Course Includes
Main Content:

• Video lectures - 113 min
• Video Demonstration - 93 min
• Handouts - 121 min
• Test - 30 min
• Course Survey- 5 min
Recommended Content:
• Practicum - 30 min
Hours for Certificate:
• 6.5 Hours on Action Exploration Education Certificate (applicable for Psychodrama certification)
• 5 Hours on CE (excludes test, survey and practicum time)

Information on Continuing Education Hours
Psychodrama professional certification training hours: 
• American Board of Examiners - ABE accepts a maximum of 120 training hours for psychodrama distance learning. This module/course will count as asynchronous distance learning as long as the primary trainer approves it.
• International Boards: You may be able to submit this certificate to your local Psychodrama board. Please contact your respective local board for information.


To obtain Psychodrama training hours:
a) Pass the test with at least 70% correct;
b) Fill in the survey. 

Experiential training hours: 
• International Society of Experiential Professionals: ISEP accepts experiential training hours administered by a TEP trainer. More information will be provided shortly. 
Social workers, Marriage and Family Therapists, and Professional Counselors: 
• APA CEs: In order to receive your certificate, you will need to visit the following website, pass an exam and complete the course evaluation.
Other Disciplines:
• You may be able to submit this certificate for credits in other mental health disciplines. Please contact your local board for information.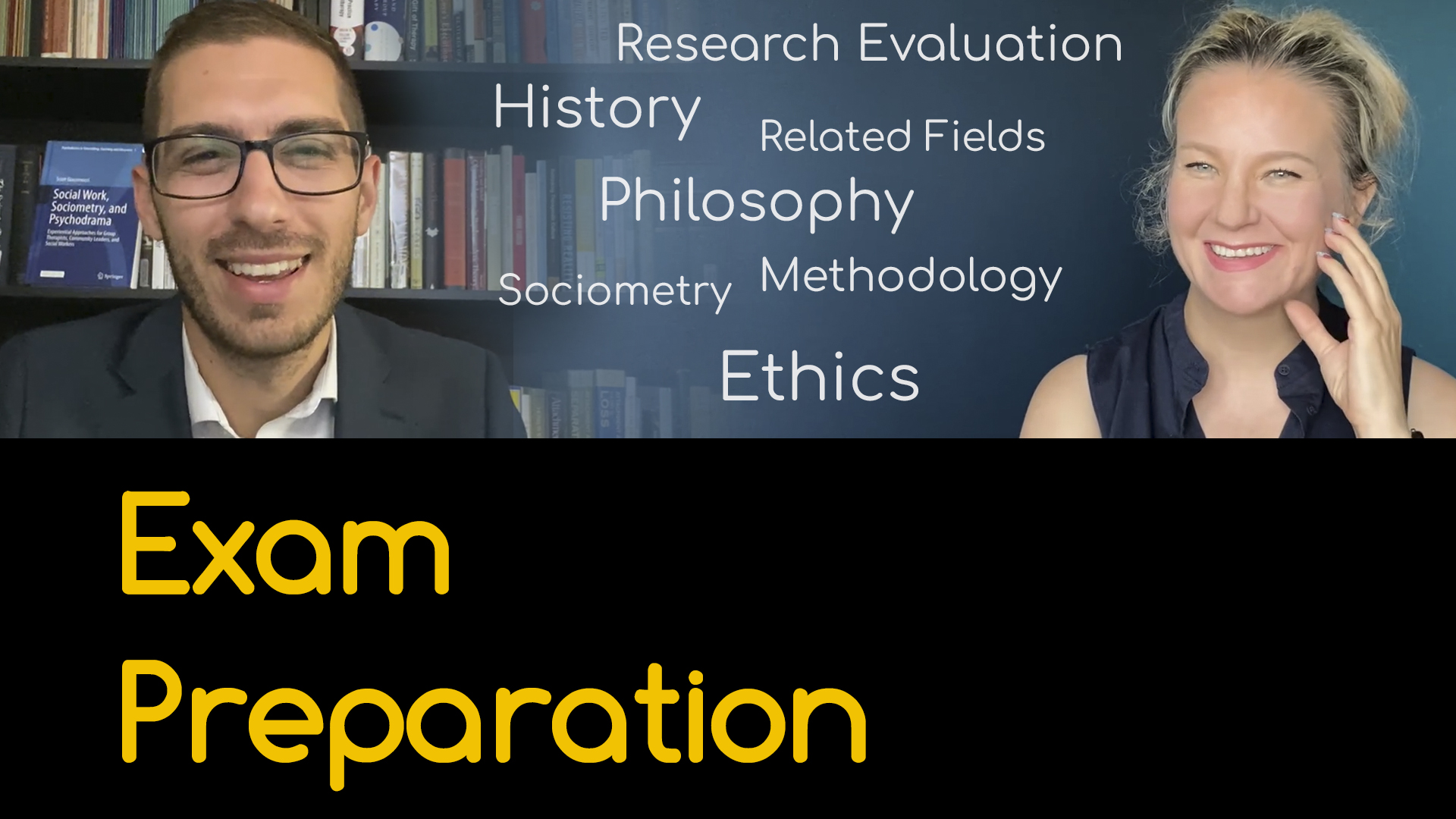 Comprehensive Preparation for Psychodrama Certification. 7 Modules


This course is on exam preparation for the psychodrama certification exam administered by the American Board of Examiners (ABE) in Sociometry, Psychodrama, and Group Psychotherapy. The course instructor, Dr. Scott Giacomucci, DSW, LCSW, BCD, CGP, FAAETS, TEP, has served as a grader for the ABE exam in the past while publishing and teaching extensively in each of the seven exam areas. Students can buy each module separately or the full course with the bundle discount. 
May we send you a biweekly newsletter?


When subscribed you will ONLY receive info on:
V Invitations for free limited-space courses
V Free video releases
V Newly released courses and discounts
V Invitations to our events


You will NOT receive:
X Spam

Check your inbox to confirm your subscription