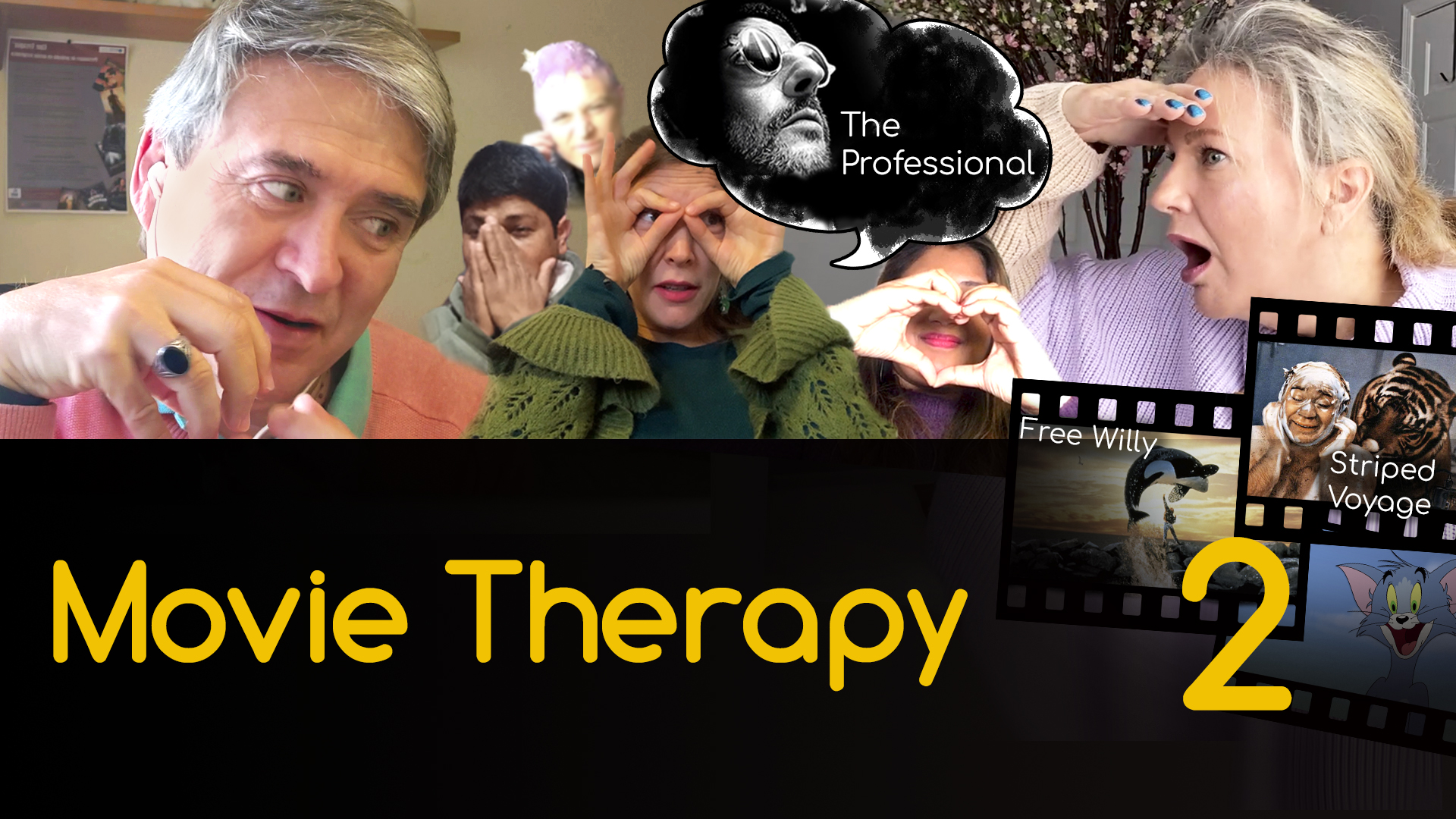 Course:
Movie Therapy

Module 2.
Movie Therapy in Groups

with Alejandro Jiliberto Herrera, Spain
LPsy, TEP, Clinical Psychologist, Educator, and Researcher
Module 2 is all about the practical application of the Movie Therapy method in a group setting, in-person and online. It shows how the method can be applied in clinical work (therapy, substance use, mental health counseling), as well as in educational, coaching, and personal growth group settings. This module demonstrates the steps to integrate a new member into an existing group. 

This method is specifically effective in: online groups, single session and ongoing groups. Also, in groups with limited amount of time to build up trust and share personal stories (Conferences and Single Sessions).
For: therapists, social workers, psychologists, counselors, psychodramatists, educators, coaches. This module is appropriate for those who are new to action methods, as well as experienced practitioners, students in mental health fields, and those who want to develop their skills in action methods. Acting skills are not necessary.
Goal: 
Identify the Movie Therapy therapeutic structure and practice directing Movie therapy group sessions. 
Objectives:

- Practice creating a proper setting for online and in-person groups (clinical and non-clinical)
- Identify the proper methods of integrating new members into a group
- Describe the group structure and practice facilitating emotional expression and operational communication
- Practice facilitating bodily warm up
- Practice facilitating group participants' imaginary journey to choose a movie scene
- Practice directing the group's sociometric choice of a movie scene to meet the groups needs
- Practice directing action
- Practice directing sharing
Specific module emphasis: 

- Role Reversal
- Doubling
- Double Mirror
- Exploration of Movie characters – emotional safety factor
- Core elements of secure attachment and bonding 

Module includes: 

Video Lectures – 13 min
Video Demonstrations – 105 min
Handouts (Power Point Presentation. Movie Therapy. Module 2) – 22 min
Self Practicum – 60 min
Breaks – 40 min

Each 50 min of content requires a 10 min break that will be included into your total certified hours
Hours for Certificate
4:00 Hours Total
Information on Continuing Education Credits
Psychodrama professional certification training hours: 
• American Board of Examiners - ABE accepts a maximum of 120 training hours for psychodrama distant learning. This module/course will count as asynchronous distance-learning as long as the primary trainer approves it.
• Psychodrama Association for Europe e.V.: We are working on getting board approval and will update this information shortly. 
• International Boards: You may be able to submit this certificate to your local Psychodrama board. Please contact your respective local board for information.


To obtain Psychodrama training hours:
a) Pass the test with at least 70% correct
b) Fill in the survey 

Experiential training hours: 
• International Society of Experiential Professionals: ISEP accepts experiential training hours administered by a TEP trainer. More information will be provided shortly. 
Social workers, Marriage and Family Therapists, and Professional Counselors: 
• We are working on getting board's approvals and will update this information shortly. 


Other Disciplines:
• You may be able to submit this certificate for credits in other mental health disciplines. Please contact your local board for information.

Module Curriculum

*Recommended Videos Not Included in Total Hours for Certificate

May we send you a biweekly newsletter?


When subscribed you will ONLY receive info on:
V Invitations for free limited-space courses
V Free video releases
V Newly released courses and discounts
V Invitations to our events


You will NOT receive:
X Spam

Check your inbox to confirm your subscription